Mens Cycling Clothing
[13]
No matter where you push your pedals, adidas has a comprehensive selection of men's cycling gear, to keep you ahead of the pack with confidence. Superior cycling footwear, innovative clothing, eyewear and more.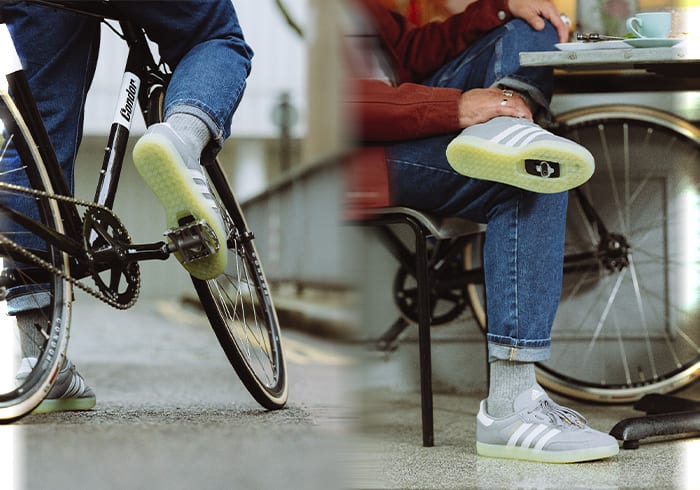 Move seamlessly between bike and street in iconic Velosamba – made with recycled and vegan materials. The Velosamba are where style meet streamlined commute. Iconic adidas Samba-style, secure pedalling and an easy walking feel – in one shoe.
adidas men's cycling gear for optimum race dominance
Life is short, so hit the trails, road or gym bike in the right form with adidas men's cycling gear. Tech-driven innovation comes standard with every item, ranging from superior footwear that gives non-slip, shock-absorbing comfort to moisture-wicking jerseys, padded tights and so much more. Pro riders can feel bolstered knowing adidas offers a 360-degree approach to cycling as a sport, and hobbyists can get the most from their passions with items made for world-class success.
Keep it light with adidas cycling gear for men
Lighten the load and streamline your outfit for slickness and speed when you deck out in adidas cycling gear for men. Slip-on jerseys or long-sleeve t-shirts fit your body like a second skin and offer a comfortable, supportive hold whilst staying breathable and dry. Cycling bibs in short- or long-sleeved variants use smart textile technology, to keep them from riding up and allow skin to stay cool as the temperature rises. No matter how long you're in the saddle, padding offers that extra layer of comfort, for true stamina races.
Men's cycling gear to beat the elements
Bad weather doesn't mean training stops, and with adidas riding gear, you can be guaranteed the fun won't end when the rain comes down. Lightweight, waterproof jackets provide a protective shell without weighing you down. Warmer variants of jerseys and shirts keep you snug whilst moving sweat away from the body. No matter the weather or terrain, adidas has the right cycling gear to keep you riding 365 days a year. Follow the label on the item for the best care instructions.